Meeting GEM ONU
Coordinator: Mrs Sinitambirivoutin , English teacher
Other teacher: Dr Marcin,  philosophical doctorate in American and cross cultural studies
Grade : lower sixth G5/1ere G5
Robins Sinitambirivoutin , president of the GEM ONU union, is a former student of Gerville Reache high school. After 2 years of CPGE he managed to enter the Grenoble Business School (GEM)
In order to discover new cultures, be better at negotiating, improve their skills , knowledge and knowhow, the members of GEM ONU organize ONU meeting simulations.  Their main objective is to allow future managers to apprehend the challenges and unexpected events they will have to face. Moreover, with a given budget of 50 000 per year, they are able to organize trips and events abroad. For instance, Robins  was in New York during the videoconference. The association participates in different international events and conferences dealing with environmental issues. The students also publish weekly articles about political and geographical matters.
Robins is an example to follow.
---
Cultural management : From Guadeloupe to Miami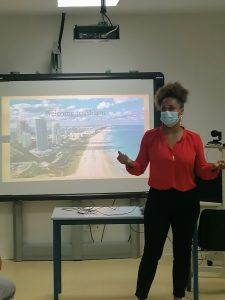 Coordinator: Dr Marcin,  philosophical doctorate in American  and cross cultural studies
Other teacher:  Mrs Sinitambirivoutin, English teacher
Grade : lower sixth G5/1ere G5
Jessy Schuster is a journalist ( Guadeloupe la 1ere). When she was younger, she studied law for one year in Fouillole because studying journalism in Guadeloupe was not possible.  But she was not satisfied with it. She was not passionate about law. Journalism was what she craved for. She then decided to go to Miami though she did not speak a word of English. Therefore, it was not easy to adapt. Furthermore,  studying in the US can be really expensive e.g. 35,000 (US $) a year.
To enter Miami university, she had to apply for some scholarships. Finally, she graduated with honors and was the major of her promotion.
Jessy started her journalist career on PBS. She  had the opportunity to interview several famous people such as Barack Obama, Britney Spears and Kanye West among others.
She sought to put Guadeloupe and its culture on the map. Indeed, people in Miami did not even know that Guadeloupe existed. She decided to promote Guadeloupean carnival in Miami. Thanks to her, a lot of people discovered our culture. She was even crowned queen of Carnival of Miami in 2021. She lives between  Guadeloupe and Miami. She released a documentary about carnival entitled "MAS" that can be discovered on youtube.
She is an inspiring self-made woman and a role model.